Gold-medal Paralympian gets a warm welcome home in Cambridge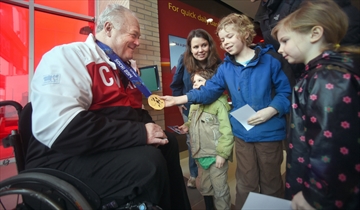 Jim Armstrong
David Bebee,Record staff
Paralympic curling gold medalist Jim Armstrong shows his medal to (left to right) Cara Schmidt and children Jeremy, 5, Matthew, 10 and Aimee, 8, at an event to honour him at the CIBC Hespeler Road branch in Cambridge on Saturday.
Waterloo Region Record
CAMBRIDGE — The children got to feel the weight of a gold medal hanging from Jim Armstrong's neck and get his autograph. Neighbours, friends, residents of the community and political dignitaries extended their congratulations.
It was all part of a warm "welcome home" reception hosted at the CIBC Cambridge Banking Centre on Saturday for Armstrong, a wheelchair curling Paralympian who recently returned from the Winter Games in Sochi with a gold medal for Canada.
"It is such a pleasure to be so welcomed into this community," the gracious 63-year old Armstrong said as he greeted people at the ceremony.
Armstrong was once a successful able-bodied curler. He began curling at the age of eight, and by the age of 22 he made his first Brier. He was inducted into the Canadian Curling Hall of Fame in 1990. He is the only curler to have won the Ross Harstone Award for Sportsmanship and Ability three times.
But what followed was a series of physical problems, tragedies, controversies and comebacks. He's had knee and back problems and numerous surgeries. In 2003 he was in a car accident that crushed his already-injured knee and permanently sidelined his career as an able-bodied athlete. He had to sell his dentistry practice.
It all seemed to happen in "one fell swoop," and Armstrong says it left "a pretty big void" in his life.
Then, in 2007, he was invited to join Team Canada's wheelchair curling program.
"I can't even put into worlds how wonderful that has been for me," Armstrong said at the Cambridge event. "It was a new sport for me, and I enjoyed it and it reinvented me."
He's had personal tragedies and controversies. He lost his first wife to cancer in 2009 and in 2010, he and his son had a brush with the law over their involvement in smuggling counterfeit erectile dysfunction drugs that were being sold by his son.
But he survived. He skipped the men's squad to gold in Vancouver in 2010 and recently repeated the performance at the Sochi Paralympics Games. He remarried and has moved from Vancouver to Cambridge where he says "there is an intimacy of a smaller town that you just can't beat."
Armstrong wants to keep going.
"I don't know if I can make it again in another four years, but I would love to be sitting here right after the South Korea games in 2018," he says.
Carmen Bettencourt of Cambridge, who knows Armstrong and lives in his neighbourhood, was among the members of the community who turned out to congratulate him on his gold medal. She says she sees Armstrong going out every day to the gym in his wheelchair, and knows how hard he works. She cheered for him as she watched the games from Sochi on television.
"I am very proud of him," she says.
Armstrong says he's probably practised more in the last few years in a wheelchair than he did in the last 10 years of his able-bodied career. He says the every athlete in the Paralympics has a "humbling" and unique story about how they confronted the challenges of disability and made their way to the world stage.
He enjoys the public appearances and being able to talk to students. He says children are not shy in asking questions. "The kids today are so much more knowledgeable than when I was a kid and also way more accepting and way more interested," he says.
The event in Cambridge was one of 30 "welcome home" events that CIBC hosted in communities across the country for the athletes who helped Canada to an impressive third place finish in the number of gold medals won at the Sochi Paralympic Winter Games.
"They inspired us all and made us proud to be Canadian," said Michelle Lee, a CIBC general manager. "You showed us how hard work, dedication and perseverance can lead to greatness no matter what challenges you face."
Cambridge MP Gary Goodyear presented Armstrong with a certificate and said "while you were in Sochi, the world was watching and we were here at home cheering you on."
Armstrong says his advice, especially to young people facing disabilities and challenges, is to strive to be the best they can be. "The opportunities are endless," he says.
rsimone@therecord.com