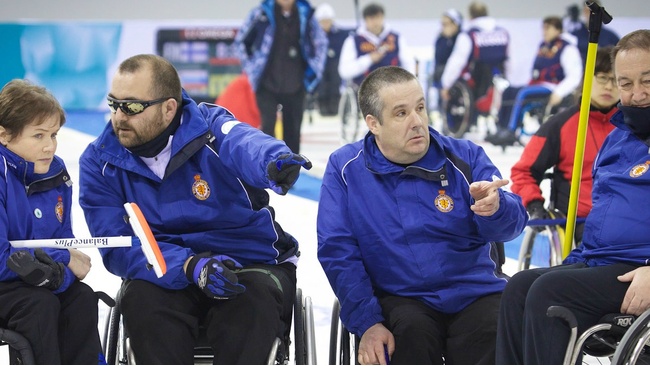 An entirely Scottish GB wheelchair curling team will take their third shot at Paralympic gold next month.
The team, including skip Aileen Neilson, Tom Killin, Gregor Ewan, Bob McPherson and Angie Malone, will be aiming for a place on the podium when they head to the Sochi Winter Games.
Angie Malone, from South Lanarkshire, was part of the team that won silver in the 2006 Turin Winter Paralympics.


She said: "I'm privileged and proud to be part of a phenomenal team representing Great Britain.
"It's a really exciting time for us. The team's playing well and we can't wait to get out there."
Despite ranking a disappointing sixth at last year's World Championships, also held in Sochi, the team feel their game has vastly improved under Canadian coach Tommy Zummack.


"Tony has made a huge difference to our game. I think everyone would agree with that. The difference is night and day," said Bob McPherson, from Bellshill.


The athlete makes his Paralympic debut next month alongside fellow teammate Gregor Ewan.
Bob, who was born with Spina Bifida, started curling six years ago after being persuaded to give the sport a try by his friend Jim Sellars, a former Paralympian himself.


"I instantly loved it. It's the best thing I've done. I was born with a hole in the bottom of my spine and I've been a wheelchair all my life but it's never held me back.
"The good thing about our team is that everyone gets on and the bond is really strong," he added.
"That helps because nobody blames you if you don't play well or make a bad shot. Everybody's got each other's back."


So far this season, the team's intensive training regime has paid off with an impressive haul of three gold and three silversmedals won in their last six major tournaments.
But to take home the elusive Paralympic gold, the team faces stiff competition from tournament favourites and reigning champions Canada, who will be looking to continue their unbeaten run at the Winter Games.


As fate would have it, the squad start their campaign in Russia on March 8 against the same side that beat them to gold eight years ago in Turin.


"Obviously Canada has a good team but we've proved this year that they're beatable," said Bob.
"On the day all ten teams have a good chance. It's just about how we perform and how we take care of our own game."


Angie added: "We're feeling confident that we can be on the podium and after all the hard training we're really excited to get out there and compete."


Wheelchair curling has been played at world championship level since 2002 but the sport has only been part of the Winter Paralympics since 2006.


Scots make up a third of the GB team competing in the Winter Paralympics in Sochi this year.